Welcome
The School Finance Indicators Database is a collection of sophisticated school finance measures for assessing the adequacy and fairness of each state's revenue, spending, and resource allocation, and for comparing these outcomes between states. The database is designed for use not only by researchers, but also by parents, policymakers, journalists, and the general public.
The primary product of the system is the State Indicators Database, a collection of roughly 125 state-by-state school finance measures, most of which are available for all years between 1993 and 2017. Key findings from this dataset, which is freely available to the public, are presented in our annual report, and one page state profiles. Users can also request the District Indicators Database, a more detailed district-by-district collection of variables, many of which are used to construct the state indicators.
It is our hope and intention that our data, and analyses based on these data, will help to inform and improve debates about school finance policy in the U.S.
Getting Started
---
The School Finance Indicators Database is compiled and published by researchers at the Albert Shanker Institute and the Rutgers University Graduate School of Education.
---
Latest News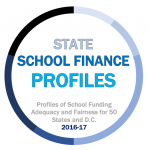 STATE SCHOOL FINANCE PROFILES 2017

October 2020: One page profiles summarizing the adequacy and fairness of school finance systems for 50 states and D.C. Download your state's profile
Latest Annual Report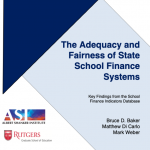 The Adequacy and Fairness of State School Finance Systems

The second edition of our annual report presenting findings from the School Finance Indicators Database for School Year 2016-2017. Released February 2020. Download the report.
Latest Research Briefs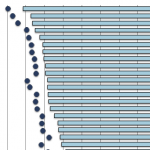 School Finance and Teacher Pay Competitiveness

An analysis of the relationship between teacher/non-teacher wage gaps and state school finance systems. Released July 2019. Download the brief.