Brief: School Finance and Teacher Pay Competitiveness
The issue of teacher pay has become a popular topic in our national political discourse over the past few years. Low salaries have been cited as a primary cause of several statewide teacher strikes and demonstrations, and the issue has even featured in the current presidential campaign.
In this research brief, we present state-by-state estimates of the gaps in wages between teachers and comparable non-teacher professionals, with particular focus on the relationship between these "teaching penalties" and state school finance systems.
The penalties vary widely by state, ranging from 5-10 percent in in Pennsylvania and Montana to 30-35 percent in Arizona, Oklahoma, and Colorado. The gaps are larger for veteran versus young teachers, by an average of roughly four percentage points, suggesting that the teaching penalty grows modestly with experience.
We also find that teaching penalties tend to be less severe in states that spend more on education, and in those that devote a larger share of their economic capacity to K-12 education. We close with policy recommendations, including the suggestion that any federal efforts to mitigate teaching penalties should incentivize improvement in states' finance systems.
Authors: Bruce D. Baker, Matthew Di Carlo, and Mark Weber
Read the full research brief
See detailed teacher competitiveness data for each state using our data visualization
Latest News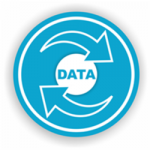 NEW RELEASE OF DATABASE AND ANNUAL REPORT

February 2020: The second edition of the SFID and annual report are now available. Read the report or Download the data.
Latest Annual Report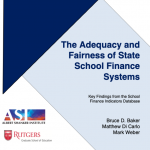 The Adequacy and Fairness of State School Finance Systems

The second edition of our annual report presenting findings from the School Finance Indicators Database for School Year 2016-2017. Released February 2020. Download the report.
Latest Research Briefs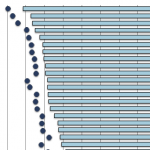 School Finance and Teacher Pay Competitiveness

An analysis of the relationship between teacher/non-teacher wage gaps and state school finance systems. Released July 2019. Download the brief.